Notranji minister Boštjan Poklukar bo po napovedih popoldne obiskal Belo krajino in si ogledal razmere, s katerimi se srečujejo domačini zaradi nezakonitih migracij. Minister naj bi se srečal s predstavniki Občine Črnomelj. V Beli krajini, predvsem v Črnomlju, vlado sicer že dlje časa pozivajo, naj učinkoviteje pristopi k varovanju meje in bolje poskrbi za njihovo varnost. Za to je tamkajšnja civilna iniciativa pred kratkim pripravila že tudi drugi protest. Prvi je bil oktobra 2016.
Včeraj pa je tudi notranji minister priznal, da se v Beli krajini, predvsem pa v Občini Črnomelj, policija intenzivno sooča z ilegalnimi prehodi meje. A pri tem gre predvsem za tihotapljenje ljudi preko meje, kar pa policija uspešno preprečuje, je hitro dodal. Dejal je še: "Na območju Bele krajine želimo v prihodnosti povečati začasne tehnične ovire." Drugih ukrepov za varovanje meje minister iz vrst LMŠ ni napovedal.
Temu ob rob dodajmo, da je ministrstvo za javno upravo pred kratkim objavilo razpis za nakup dodatnih ograj, vendar le za 3800 metrov, kar je – ob preko 50 kilometrih meje zgolj v Občini Črnomelj – kaplja v morje. Vprašanje je tudi, če je to res tista rešitev, ki jo Bela krajina potrebuje. Spomnimo še, da so 35 dodatnih vojakov poslali na območje Ilirske Bistrice.
Dobavitelja za panelno ograjo v migrantskih centrih ne morejo najti
Veliki zapleti pa so tudi pri naročilih za dobavo in montažo panelne ograje in vrat za sprejemno-registracijske centre. Kot je znano, vlada načrtuje postavitev treh: v Metliki, Jelšanah in na Obrežju. Kot prvi je bil načrtovan center v Metliki. Vladni urad za oskrbo in integracijo migrantov je doslej objavil že več javnih naročil, povezanih s tem. Zapletlo pa se je pri naročilu za dobavo in montažo panelne ograje in vrat za te centre.
Urad je prvo naročilo objavil že 17. decembra 2018. Do 25. januarja 2019, ko se je iztekel rok za oddajo ponudb, so prejeli štiri ponudbe domačih podjetij. Izbrali so Roberta Žugiča, samostojnega podjetnika, iz Šmarja-Sap pri Ljubljani. Nato so 1. aprila 2019 objavili, da je izbrani izvajalec odstopil od podpisa pogodbe. Že naslednji dan, 2. aprila, so razpis ponovili. Dan po volitvah, v ponedeljek, 27. maja 2019, pa so objavili, da do roka, to je 13. maja 2019, niso prejeli nobene ponudbe.
Letošnje povečanje nezakonitih prehodov v izrazitem vzponu
Zadnji statistični podatki, ti so do 30. aprila 2019, kažejo, da so slovenski policisti  obravnavali 3043 ilegalnih prehodov državne meje, kar je 2,3-krat več kot lani v istem obdobju, ko je bilo teh 1305. V letošnjih prvih štirih mesecih so bili najpogosteje obravnavani državljani Alžirije, Pakistana in Maroka. Največ ilegalnih prehodov je obravnavala Policijska uprava (PU) Novo mesto, sledi PU Ljubljana, kjer gre večinoma za prehode na kočevsko-ribniškem območju. Šele na tretjem mestu je PU Koper.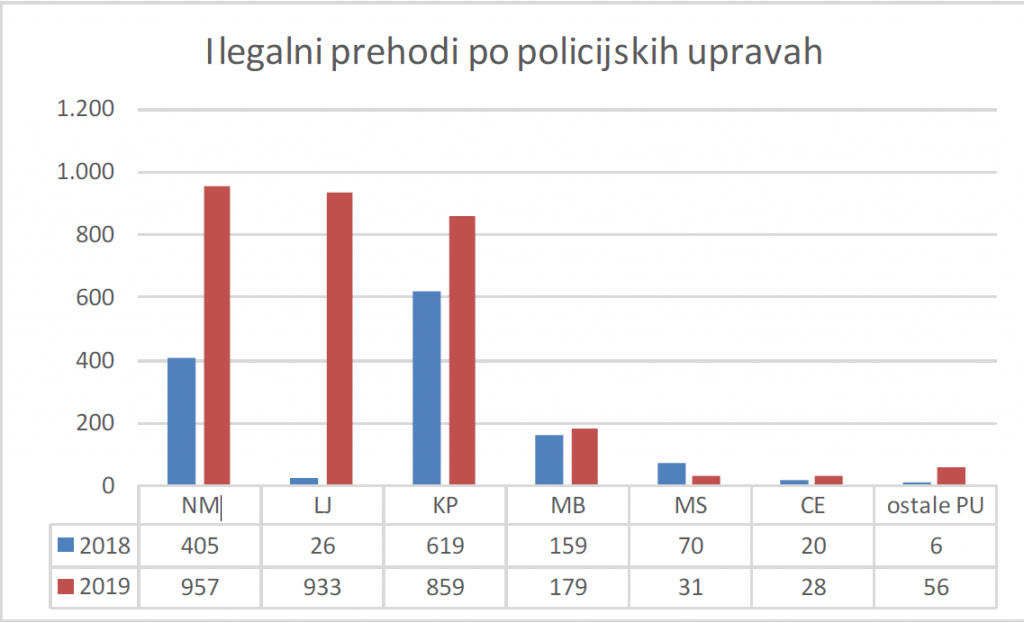 Pri tem se je slika v letošnjem letu precej spremenila. Do letos so bili prvi Koprčani, drugi pa Novomeščani. Namero za podajo prošnje za azil je letos podalo 1.262 ilegalnih migrantov, med njimi je bilo daleč največ Alžircev. Lani je bilo 1.002 namer, število se je od lani povečalo za četrtino. Policija tako tudi uradno ugotavlja, da letošnji trend števila ilegalnih prehodov strmo narašča. "V aprilu smo dosegli vrednost, ki presega katero koli od lanskoletnih vrednosti," so zapisali v svojem poročilu. Iz poročila je še razvidno, da so tuji varnostni organi v Slovenijo vrnili 214 oseb, lani je bilo teh le 85.
Kakšna je ocena policije?
V letošnjem letu je bil zaznan strm trend naraščanja števila ilegalnih prehodov. Trend po svojem obsegu in doseženi vrednosti v letošnjem aprilu presega lanskoletni trend. Struktura ilegalnih migrantov po državljanstvu se spreminja, opazno je predvsem povečanje števila državljanov Alžirije, Pakistana in Maroka. Znaten je delež tistih ilegalnih migrantov, ki izrazijo namero podaje prošnje za mednarodno zaščito. Po nastanitvi v azilnih kapacitetah pogosto nadaljujejo pot v svoje dejanske ciljne države. Med njimi je opazno največ državljanov Alžirije in Maroka. V prevoznih sredstvih se praviloma skrivajo Afganistanci, ostali vstopajo na drugačne načine.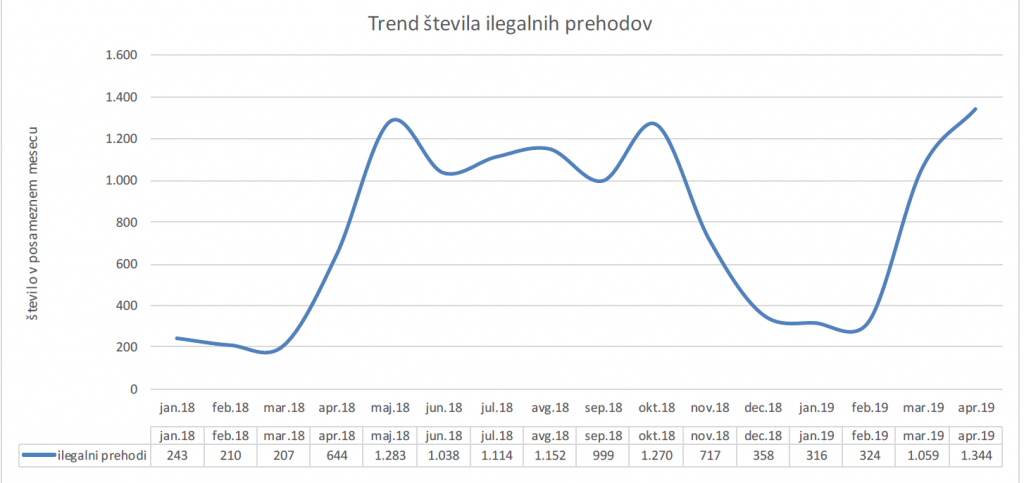 V Sloveniji je trenutno 673 oseb z že priznanim azilom (mednarodno zaščito), 303 prosilci za azil, še 40 jih v azilnem domu v Ljubljani in Logatcu čaka na podajo prošnje za azil. Dodatno smo izvedeli, da minister Boštjan Poklukar pride danes v Črnomelj okoli 15. ure, ko se bo najprej srečal s črnomaljskim županom Andrejem Kavškom, nato pa še s svetniki, ki imajo danes sejo občinskega sveta.