Leta 2015 se je zgodil eksodus, premik, tektonske spremembe na področju spremembe dolgoletnega populacijskega ravnovesja. Povzročen seveda od najmanj priljubljenega "generatorja" teh premikov, sprememb, ki se mu reče vojna, z vsem kar sodi zraven. Ampak, bilo je to leto 2015, svet je spremljal tragedijo, razpad do tedaj neuspešnih in na nasilju in zatiranju  človeškega dostojanstva temelječih družb, imenovanih tudi držav tudi od teh nesrečnežev, ki so znotraj svojih skupnosti že trpeli vse vrste nasilja, vojn, spopadov na vse mogoče podlage.
Zgodilo se  to da poleg nekaj manjših sosednjih državic i Turčije, da se je del te mase beguncev, nekaj čez 4,5 milijona, napotila naprej z morebitnim ali očitnim tveganjem, da bodo zavrnjeni.  In so šli na pot. Čez drn in strn, brez nadzora, brez dokumentov, naprej dokler se je dalo. In ko so videli, da se da, so še naprej organizirali, tudi s pomočjo doniranega denarja, samo, da jih gre čim več in čim dlje proti Evropi.
Da ne omenjam posebej zgrešenega poziva Nemške premierke Angele Merkel, spodbujena od nemškega gospodarskega lobija (ne vem katerega), da rabijo čim več sveže delovne sile in to predvsem inženirjev, zdravnikov, znanstvenikov, ki je samo Nemčiji navlekla 800 tisoč "willkomerjev".
Do tam in naprej pa so delali devastacijo vsega kar se jim je postavilo na poti v obliki slabe namestitve, verskih objektov, slabih telefonov, pomanjkanje WI-FI točk, premalo oblečenih  žensk … Tudi kasneje je bilo vse drugače kot se je sprva govorilo, pričakovalo, domnevalo, želelo, svetovalo, rotilo za strpnost. Zadeve so se obrnile kot bumerang, ta benevolentnost, dobrohotnost stare, omagane, geronto-Evrope, da rabi svežino v vsem, tudi za ceno izgube izvirnosti, evropskosti in podrtega evropskega videza in obraza nje same kot je v genih samih Evropejcev bila zapisana in ohranjena skozi tisočletja. Na račun solidarnosti in v več primerih "nabijanja" slabe vesti tej isti Evropi.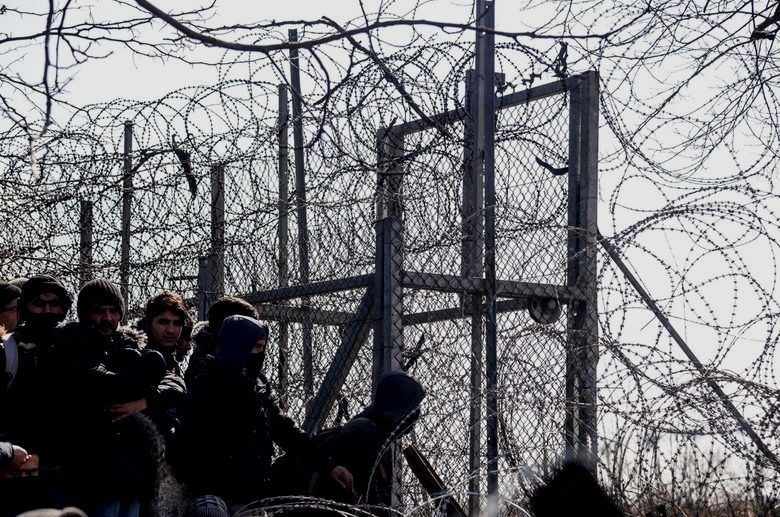 V takratnem času najhujšega begunsko migrantskega vala, sočasno spremljan z dodatnimi "zdravimi vendar utrujenimi borci", potencialnimi teroristi  v Evropo, kamor se vsakodnevno stekalo na tisoče obupanih, pa tudi načrtno potisnjenih beguncev, večinoma z nemirnega in kaotičnega Bližnjega vzhoda (območje ISIS-nasilne in rušilne muslimanske tvorbe), se je kmalu oziroma  porodilo očitno vprašanje: zakaj ti begunci namesto na Zahod ne bežijo raje v bogate arabske države?
Znano je namreč, da bi jim kulturološko, religiozno in navsezadnje relacijsko namreč morale biti zalivske države (Kuvajt, Savdska Arabija, Katar, Bahrajn, Združeni arabski emirati) precej bližje od stare celine, obenem  pa prejšnji morebitni predsodki so spremenile v vedenje o njih na podlagi realnih izkušenj. V letih od 2015 do sedaj so begunce iz arabskih dežel gladko uvrstili večinoma ali pretežni del na tiste ki so zlorabili gostoljubje in v ničemer se niso prilagodili okolju in ozemlju gostitelja, ki jih je sprejel in mnogokrat pokesal, prav zaradi tega.
Zakaj ne trkajo na vrata mej držav v neposredni bližini, celo sosed?
Pri tem imamo seveda v mislih tiste najbogatejše države v regiji, ne pa Libanona, Jordanije in Turčije, ki svoj orjaški delež beguncev sprejemajo že vsa ta leta. Eden od izgovorov je birokracija. Drugi še bolj za lase privlečen je da so  med njimi kulturne razlike, tretji pa je način vladanja v teh najbogatejših držav, predvsem avtokratsko vladanje, četrti pa je delitev na bogatejše in revne. Nekatere, kot so Katar, Saudska Arabija, Bahrein, se  nočejo mešati s svojimi brati po veri. Rajši plačajo ceno za dvesto mošej v Nemčiji, Katarci med drugim tudi za ljubljansko mošejo, kot da jih sprejmejo. Z druge strani vedo tudi samo potencialni begunci, migranti in razseljenci vseh vrst, če bodo šli v prej omenjene države, bodo obravnavani po njihovih tamkajšnjih šegah in običajih in nič drugače. To pa pomeni, da bodo njim podrejeni, delali bodo za njih in bodo dejansko njihove sluge in podrejeni na podlagi bogastva in ne nekih človekovih pravic, ki jih narekujejo deklaracije, človekove pravice zapisane v ustavah in tako naprej. Otepajo se jih vse po vrsti države ki so najbogatejše in v njihovi bližini, neradi gredo tudi oni sami, vse  zaradi prej omenjenega. Pa revni so po vrhu.
In tukaj pride še kako prav sočutna "teta" Evropa. Nobena izmed t. i. zalivskih držav, napreč  ni podpisala Konvencije Združenih narodov o beguncih, ki ureja status in postopke ravnanja z ljudmi, ki prihajajo v državo in se ne rabijo ravnati po njih.
Z druge strani imamo Turčijo ki se na vse kriplje dobrika Evropi, želi biti zraven, politično, ekonomski, vojaško (je NATO članica) ki pa je v štirih letih postala nekaj, kar nikoli ne bi smela postati, oponent Evropi, predvsem pa manipulant z migranstsko krizo in izsiljevalce finančne pomoči, ki jo sočasno uporablja za nove vojaške posege v katere se aktivno vmešava. Ni dolgo o tega ko se je na račun svojih vojaških porazov v Siriji , kjer je Turčija vpletena direktno na strani upornikov, "aktivirala" migrantsko vprašanje  z grožnjo novega migantskega vala. In začela uresničevati grožnjo z nezmožnostjo zadrževanja vala na poti v Evropo.
V enem tednu ji je uspelo premakniti skoraj 150 tisoč beguncev in "strokovno" usposobljenih "trouble maker-jev" za manipulacijo z nezadovoljnimi masami beguncev in so že bili na mejo z Grčijo in Bolgarijo. Ostalo je znano, nezadovoljstvo z obravnavo, potiskanje otrok naprej in da pokažejo da se ravna nehumano z njimi, potem nasilno poskušanje vdora v  predvsem v Grčijo ter reakcija, sklicevanje na prekomernost uporabe sile in orožja,ki ga dejansko uporabljajo oni«prej omenjeni povzročitelji neredov in spet trkanje na vest evrope in mednarodne skupnosti.
Toda!?
Ta trenutek je nujno eno! Poenotenje Evrope o nedopustnosti ravnanja Turčije, njenega izsiljevanja, grožnjo da bo spustila naprej vse begunce , ki jih ima na svojem ozemlju, do direktnega "sponzoriranja" prevozov ogromnih množic migrantov na mejo z Grčijo in Bolgarijo, se prav na zunanje meje Evropske skupnosti. To je zadnji trenutek za obrambo tistega ki se mu reče Evropa in evropskega na naših tleh. Načetega je že veliko tega kritična faza bi pa res nastopila pok kateri ne bo več povratka nazaj.  Smo z poenotenjem  in  argumentiranem  in z odgovorom ki se mu reče zaščita evropskih zunanjih meja bo učinek pravi. Vse mehanizme ki sodijo zraven morajo biti uporabljene efektivno in učinkovito na pragu Evrope in ne na dvorišču. Takrat bodo obmolknili vsi in Recep Tayyip Erdogan in vsi  njegovi propagandni vajenci.
Tukaj pa res drži znani rek iz našega slovenskega podnebja, "da je sedaj res čas, ko ni več časa za odlašati z rešitvijo", v primeru, ki smo mu priča te dni.
Evropa zadaj in za vselej se brani v tem trenutku!