Pozornost javnosti in politike od lokalne do Državnega zbora in Vlade je v sedanjem trenutku pri nas, drugje v Evropi in po Svetu usmerjena na pandemijo korona virusa ali bolezen covid-19. Tej bolezni bi upravičeno lahko rekli tudi kitajska mrzlica. Ne bom razpravljal ali je izbruh te bolezni v Wuhanu čisto naključje ali pa je povezan s centrom kitajske armade za biološko vojskovanje v tem mestu. Za tako razpravo enostavno nimam dovolj podatkov. Je pa nesporno dejstvo, ki ga potrjujejo številna novejša neodvisna poročila, da je Kitajska svetovno javnost o izbruhu te bolezni obvestila prepozno in da je o njenem obsegu zavestno lagala. Obolelo je neprimerno več ljudi, kot so trdila uradna kitajska poročila, neprimerno več jih je tudi umrlo. To navajam zato, ker želim poudariti, kako težek spopad s covidom-19 je pred nami. Obvladovanje pandemije in njenih gospodarskih posledic predstavlja za vse odgovorne v naši družbi več kot zahtevno nalogo.
Med tem ko je naša pozornost tako v Sloveniji kot v Evropi usmerjena predvsem v zajezitev pandemije in premagovanje njenih ekonomskih posledic, poteka nekako v senci te pandemije v Evropi drug proces, ki je verjetno za njen obstoj in identiteto še bolj nevaren kot prvi.
O tem procesu nameravam spregovoriti v tej kolumni. Ta proces ni nič manj in nič več kot poskus okupacije Evrope. Pobudnik te okupacije je poskušal Evropo v zadnjem tisočletju in pol zasesti že ne vem več kolikokrat.
Sedanji migranti – bodoči okupatorji Evrope
Pobudnik te okupacije je uma – skupnost vseh muslimanov. Dosedanji poskusi okupacije so bili vsi s pomočjo vojaške sile, ki se jim je tudi Evropa uprla z vojaško silo in bila na koncu, čeprav je včasih trajalo tudi stoletja, zmagovita. Bralca naj spomnim samo na nekaj najpomembnejših dogodkov. Karl Martel s svojimi Franki je porazil prodirajočo saracensko-muslimansko vojsko leta 737 pri Poitiersu v dolini Loare nedaleč od Toursa in jih prisilil, da so se umaknili južno od Pirenejev. Španska rekonkvista pa je potem trajala vse do 1492, ko je moral muslimanski osvajalec zapustiti zahodno Evropo. Podobno, čeprav mogoče ne tako uspešno, je bilo na vzhodu Evrope. Prvi ki je turško-muslimansko vojsko ustavil je bil Andrej Turjaški s kranjskimi regimenti v bitki pri Sisku leta 1593. Sledila je bitka pred Dunajem leta 1683, po kateri je zmagovita avstrijska armada osvobodila Hrvaško, Madžarsko in Vojvodino. Sedanja meja Evrope je bila vzpostavljena v Balkanski vojni leta 1912 med Grčijo, Srbijo in Bolgarijo na eni strani in Turčijo na drugi.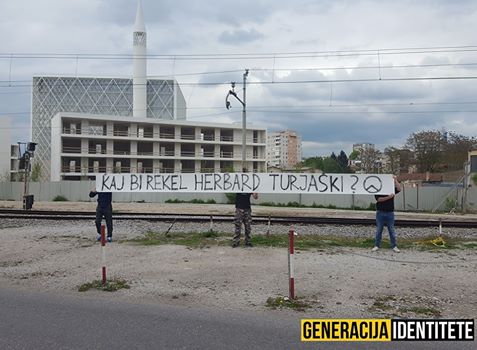 Po vseh teh vojaških porazih in tehnološko – gospodarskem razvoju Evrope od 18. stoletja naprej bi bilo upravičeno pričakovati, da bi muslimanska uma in njeni voditelji opustili misel na okupacijo Evrope. Vendar temu očitno ni tako. Res je, Evrope ne poskušajo več zasesti z svojimi vojskami. Zato so enostavno vojaško prešibki. Evropo poskušajo okupirati s pomočjo tako imenovanih migrantov. To je navidezno nenasilen način, ki pa bo, če se bo nekontrolirano nadaljeval bistveno in odločilno spremenil nacionalno in kulturno sestavo Evrope. Že sam način kako ti migranti prihajajo v Evropo, meje prečkajo na nezakonit način, daje vsakemu pozornemu opazovalcu dovolj jasno vedeti, da ti člani ume tudi enkrat, ko bojo v Evropi naših zakonov in načina življenja ne bodo spoštovali. Očitno pričakujejo, da bodo nekoč lahko življenje v Evropi oblikovali po svojem okusu, po muslimanski tradiciji. Sedanji migranti so torej, vsaj tega si želijo, bodoči okupatorji Evrope. Vse kaže na to, da nameravajo ne mogoče jutri ampak nekoč v ne tako daljni prihodnosti si Evropo podrediti.
Največjo nevarnost predstavljajo domači kolaboranti
Razlog, da je poskus tega novega načina okupacije še posebej nevaren so številni domači kolaboranti – sodelavci okupatorja. Kot zavestne ali slučajne kolaborante okupatorjev 21. stoletja bi označil vse tiste načrtno odpirajo meje Evrope, predvsem meje Schengenskega področja, kot je na primer Slovensko – Hrvaška meja ali se ne trudijo dovolj, da bi bila ta meja ustrezno nadzorovana. V Sloveniji so v mojih očeh kolaboranti vsi, ki v tem za vse nas težkem trenutku pandemije, ekonomske krize in migrantskega pritiska nasprotujejo uveljavitvi znanega 37.a člena, ki bi dal Slovenski vojski v obmejnem pasu zadostna pooblastila za zaustavitev ilegalnih migracij.
Za zaključek naj povzamem, da je popolnoma napačno, če kdo sodobne migrante v Evropo enači s političnimi begunci, ki potrebujejo in so upravičeni do političnega azila. Te migrante je mogoče razumeti edino kot okupatorje 21. stoletja, s pomočjo katerih poskuša muslimanska uma okupirati in si v nadaljevanju podrediti Evropo. Poskus te okupacije je še posebej nevaren zaradi številnih kolaborantov tako pri nas v Sloveniji kot tudi drugod v Evropi. Ko enkrat razumemo dogodke okoli nas, se je lažje sprejemati pravilne odločitve.
dr. Andrej Umek