V oddaji Kdo vam laže, ki jo vodi Boris Tomašič so bili v četrtek, 3. septembra 2020, predstavljeni trije nominiranci za intelektualca tedna. Za prestižni naziv se potegujejo poslanka SAB Maša Kociper, vršilka dolžnosti predsednika SD Tanja Fajon in voditelj na Pop TV Uroš Slak. Tomašič se je v oddaji podrobneje posvetil intelektualnimi presežki Marka Bandellija, ki je spoznal, da se volja ljudstva ne ujema z njegovimi predstavami in zato okrivil Madžare, nebulozami Fajonove o uniformiranih vardah in pomanjkanju samorefleksije v SD ob vseh partizanskih pasjih procesijah, kjer paradirajo ravno v uniformah, ki jim v drugih primerih tako zelo nasprotujejo, ter pojasnjevanjem kaj je kredit v najbolj preprostem jeziku za intelektualca iz vrst LMŠ Roberta Pavšiča.
"Nominiranci so Maša Kociper, Uroš Slak in Tanja Fajon," je v uvodu v oddajo Kdo vam laže povedal voditelj oddaje Boris Tomašič, in ob tem pojasnil, da je govora o tem tednu in ne lestvici vseh časov ali pa letošnjega leta.
V središču oddaje je bilo vprašanje Kociprove namenjeno predsedniku vlade Janezu Janši, ali on sploh ve kaj to je "politični zapornik". Nekoliko nepremišljeno vprašanje, glede na to, da je imel Janez Janša pomen tega izraza priliko izkusiti na lastni koži tako v komunistični Jugoslaviji, kot navsezadnje tudi v neodvisni in domnevno demokratični Sloveniji.
Slak se je po drugi strani izkazal v pogovoru z zunanjim ministrom Anžetom Logarjem, kjer je med drugim govoril o "nemško-francoskem vlaku" in zasliševanju notranjega ministra Aleša Hojsa.
Kosovo in Makedonija jedrna Evropa
Fajonova si je mesto med intelektualci tedna prislužila s svojimi kritikami blejskega strateškega foruma, kjer je izrazila mnenje, da se Slovenija oddaljuje od tako imenovane "jedrne Evrope". Hitro se postavi vprašanje, kot točno pomeni "jedrna Evropa". Je to Slovenija? Lani je zgolj eden premier obiskal blejski strateški forum, to je bil takratni slovenski premier Marjan Šarec. Je jedrna Evropa države kot so Kosovo, Malta, Makedonija ali Turčija? Kajti predstavniki teh držav so v preteklih letih obiskovali blejski strateški forum. Nekatere od teh so tudi drže, ki pri Fajonovi uživajo izrazito naklonjenost.
Stran od jedrnega dela EU. To me skrbi, ker se s tem čez noč načrtno spreminja doslej močno nacionalno soglasje: biti del najbolj razvitih, povezanih, svobodnih in demokratičnih držav v Evropi in svetu. #BSF2020 2/2

— Tanja Fajon (@tfajon) August 31, 2020
Po drugi stran, pa se je Slovenija v času Janševe vlade tudi dejansko obrnila proti Evropi, o čemer priča tudi udeležba voditeljev Poljske, Češke, Madžarske, Hrvaške, Srbije, Bolgarije in Italije.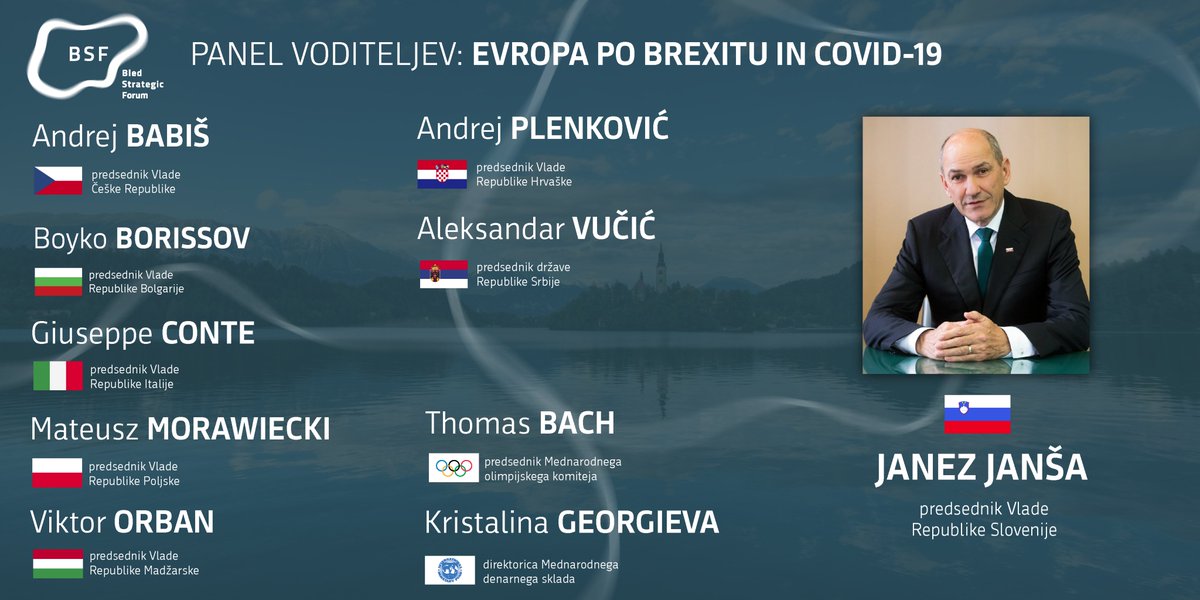 Poleg osmih evropskih voditeljev držav so na blejskem strateškem forumu bili tudi predsednik Mednarodnega olimpijskega komiteja Thomas Bach in direktorica Mednarodnega denarnega sklada Kristalina Georgieva.
Glas ljudstva in Bandellijeve zablode
Ker je intelektualcev v slovenski politiki preveč, je Tomašič razmišljal o potrebi po uvedbi omejitve izpostavljanja enega intelektualca na stranko. Začel je z Markom Bandellijem iz SAB. Ta je na Twitterju objavil anketo z nadvse vodljivim vprašanjem "A bi morda zaupali tej vladi nabavo orožja za 780 milijonov €, po tem kar smo ugotovili pri nabavi zaščitne opreme in po temu, kar se je dogajalo v aferi Patria?"
https://twitter.com/BandelliMarko/status/1301252640672813057
Bandelija je nekoliko presenetilo ko je kar 68 odstotkov sodelujočih v njegovi anketi odgovorilo, da bi tej Janševi vladi zaupali z nabavo orožja v vrednosti 780 milijonov evrov. "No, to je rezultat, ki sem ga pričakoval. Želel sem dokazati, da madžarski sistem in desnosučna klet odlično deluje," je v nadaljevanju nekoliko presenečen, a toliko bolj prizadet tvitnil Bandelli. Če se rezultati ne ujemajo z njegovimi percepcijami, so za to krivi "madžarski sistem in desnosučna klet". Sploh če se izkaže, da kar dve tretjini sodelujočih izkazuje podporo aktualni vladi. V času pisanja tega članka je bilo po 1.012 oddanih glasovi in zaključenem glasovanju, kar 71,6 odstotkov sodelujočih prepričanih, da je vlada vredna njihovega zaupanja.
Varde prepovedane, rdečezvezdašev ne dajo
V sredo je bila v Državnem zboru razprava o tako imenovanem zakonu o vardah, katerega namen je preprečiti, da bi se nedko v uniformi sprehajal ob meji, je povedal Tomašič. Ob tem je spomnil na izjavo Fajonove, ki je zapisala: "Danes smo naredili velik korak pri preprečevanju samovolje uniformiranih skupin, vard, ki že več kot leto dni vznemirjajo ljudi in korak za korakom ogrožajo temelje demokratične ustavne ureditve." Tomašiča je taka trditev nasmejala. Sploh ko spomnimo, kako zelo so ravno v SD nasprotovali aktivaciji člena 37.a, ki bi pripadnikom slovenske vojske zagotovil potrebna policijska pooblastila za učinkovito varovanje južne meje. Namesto tega, imamo Andreja Šiška.
Po drugi strani pa ravno Socialdemokrati, nasledniki Komunistične partije Jugoslavije, podpirajo in spodbujajo oblačenje v uniforme in aktivno nošenje orožja, vse dokler je to pod znakom komunistične rdeče zvezde.
Ivan Šokić